Meet some key movers & shakers from our team of 34 talented and friendly craftspeople.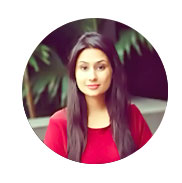 Surabhi Mohta- Agency Head. Chief Entertainment Officer.
Surabhi has enjoyed creating delightful customer interactions at the intersection of physical and digital for over 5 years.

She started moonlighting as a freelance SEO writer for Amazon SKUs, way back as a fulltime employee at TOI but has moved on to slightly more badass projects since- Conducting ground-breaking nudge-marketing campaigns and crafting an intuitive conversational UI for India's leading Insurance Provider; ideating, marketing and executing monthly events for crowds of 13K+ people, etc.

However, she counts her first break as an invaluable lesson in translating her passion for new and enriching experiences into creating similar transformative interactions for people.

Her passions (other than work) include exploring markets and museums by the day and unwinding at local watering holes and world-renowned sky bars at night on her various travels, being transported to the Normandy Beaches with yet another World War II spy novel, and discovering new Jazz x Deep House artists that blow her mind.

A steaming Nespresso on a rainy day and compelling marketing campaigns on any given day are 2 of her most favourite things.
Madhurima Ganguly- Senior Copywriter. Intersectional Feminist.
5 Years of studying Comparative Literature and Film Studies at Jadavpur University- One of Kolkata's most prestigious institutions for arts, at the graduate and postgraduate level, helped Madhu develop a flair and penchant for creating both witty punch lines and weighty prose.

Subsequent stints at the Times of India and a thriving boutique ad agency further honed her skill-set in translating both maddeningly nebulous and ultra-comprehensive client-briefs into fiercely clever copy.

At AW, she currently leverages and refines her talent everyday by writing words for sectors as diverse as Kids' Couture to Personal Finance to Ladies' Cosmetics and more.

But Madhu is also so much more than her words (and her looks.) She is the practicing feminist icon and proud teetotaler every woman and man needs in life. The former to fight the inherent patriarchy that plagues our current society. The latter - so that she can ensure nobody dies after a hardcore party sesh once everyone has had a drink or 10.
Sourav Mondal- Content Manager. Resident Yogi.
A Postgraduate in Electronics Engineering, a Philosophical Guru and a Poignant Poet- discussing how a signal from one cellphone travels to another is as fascinating to Sourav as reading "The Cloud" by P.B Shelly or debating the benefits of Ashtanga Yoga vs Iyengar Yoga.

Sourav's over 5 years of experience (4 at AW) in creating, editing, and delivering stellar content across diverse sectors (Health, Technology, Finance, etc) compounded by his discipline and logical ability (no doubt honed by his passion for Yoga, meditation, and fitness) compounded by his sensitive poet's nature make him no contest- the best content manager we've had till date.

Don't take our word for it? We're armed with stats such as his on-time delivery, client and employee satisfaction rate, etc to back this grand statement up.
Khadija Patel- Content Strategist. Early Pioneer.
Khadija was the first person ever to join our team way back in August 2014. Armed with a B.A (1st Class) in English Lit from the prestigious St. Xavier's College, Kolkata, Khadija's first (and till date only) job ever was also to be the first person to join our team way back in August 2014.

She has come a long way since her first year of creating SEO-friendly product descriptions for SKUs on Amazon, Staples, etc. to creating intensively-researched, tremendously effective long-form blog posts and articles for clients across BFSI, Healthcare, and Travel that rank on top for several relevant search queries.

However, this sheer act of bravery of being our maiden employee (most might call it foolhardiness) alone doesn't earn her the title of a maverick who sets afoot in places where even the fiercest among us fear to venture! She had her first "fairytale" date with her current husband in a graveyard where he proposed to her by his grandmother's grave! Yes, they're still happily married. And yes, wonders never cease!
Hitaishi Majumder- Social Media Strategist. Spice Queen.
Despite her graduation in engineering and love for all things tech, Hitaishi holds a myriad other passions ranging from Beauty to Bollywood.

Blessed with the gift of the gab at which she became further gifted after a yearlong stint at a digital marketing agency before joining us, Hitaishi is a social-media junkie who gets an adrenalin rush from each post, tweet, and share.

At AW, we reward her with continual dopamine kicks by assigning her projects wherein her social skills are put to best use as she spices up the blandest of sectors such as BFSI and Health Tech- Minimal expectations from a person who has fierce debates with herself before the mirror, every morning about what colour of lipstick to wear.
Utsab Chakraborty- Medical Content Lead. Resident Doctor.
It took Utsab five schools, a couple of colleges and two universities to game the Indian Education system. Ok, that came off wrong. He is not a delinquent; it's just his father used to be transferred a lot.

But he did end up studying loads of Science, Botany, and Biotech even right till the Bachelor and Masters level which quite unincidentally, also sowed the seeds of his passion for Biology (both plant and human), Pharmacology, and Allied Sciences.

He fosters this passion everyday at work- wherein he translates medical content of highly technical nature like a boss (or a doctor with advanced linguistic skills) by breaking down research papers, medical journals, etc. into layman language for several of our medical clients in their effort to make healthcare accessible to the masses.
Samik Mukherjee- Design Strategist. Ashamed Smoker.
Samik's passion for design starts with leather (his NIFT major) and transcends all media as he excels in Graphics, Web, UI, Events, Set, Interior, Crafts, Products, Stills, Sketching, Portraiture, and beyond.

Unlike us regular peeps, who make (and usually) break resolutions at the beginning of each new year, Samik, makes the same resolution – to quit smoking- every single day- which he ends up breaking before breakfast itself.

Luckily, he is (much) more passionate and committed in all other aspects of his life- including trekking, design, and of course blowing our minds with his medium-agnostic virtuosity at work.
Sambit Nandy- Chief Design Strategist. Old School Guy.
With over 16 years of experience in all types of web design, instructional design, and UI/UX at boutique agencies as well as multinational companies such as Tata Interactive Services, our office veteran is a lover of all things classic- Eagles' Songs, Sachin Tendulkar, and the Helvetica Font.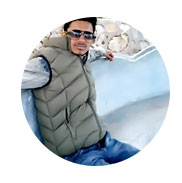 Suvra Naskar- Designer and Developer. Deepika Fanboy.
Suvra vocally and vehemently swears by the 4Ds in his life- Deepika Padukone, Design, Development, and Desi Chai. In that order of priority.

Otherwise, this unassuming boy goes about his business with the quiet efficacy that makes the rest of us feel that we definitely need more chills in our lives. Like seriously.
Pragya Laha- Video Marketer. Resident Spielberg.
Pragya's talents are as multifaceted as her Mass Media curriculum, which had intensive courses on social media, copywriting, journalism, advertising, etc. While Pragya devoured all of the subjects with equal fire, Film became her raison d'etre.

When Pragya isn't watching Hollywood, Bollywood, Tollywood, Kollywood, Iranian Films, French Films, Documentaries, Ad films, and sometimes even infomercials- she makes films for us, our clients, for social media pages, for presentations, for no reason.

Her 3rd love is her 14-year old Labrador after her first two loves- Adobe Premier Pro and Adobe After Effects.
We're always looking to add more writers, designers, and coders to our motley crew.
Think you can fit right in? Reach Out!